In about 2 weeks, on Tuesday January 19, we will move from Philadelphia to Seattle.
Philadelphia – we will miss you so much! Especially all the friends that made it so warm for our family! Thanks for welcoming us, and for the great memories you are sending us away with!
I'll do a more thoughtful post soon with milestone pictures of our kids while we were here, and some of the things we are looking forward to about Seattle, WA!
Today is the fourth anniversary of the death of our first child, Sarah Grace Marie. (I talk about that a bit here.) To commemorate it, I thought I'd post this song (so beautifully sung by the Innocence Mission on their album of lullabies, Now The Day Is Over that always makes me think of her.
My Love Goes With You
Beautiful and dearest child,
morning comes soon, sleep awhile.
Fly away to trees that sway
in dreams peaceful and green.
Of the happiness you bring
I will sing, oh I will sing.
My love goes following
you into your dreams.
By lo, by lo,
my love goes with you now.
My love, my love,
my love goes with you now.
Karen Peris 2004 Umbrella Day Music, BMI
I love this song and how it makes me feel, even if I do tear up. It's a way of saying, "Good-bye" and "I love you." We miss you, sweet Sarah Grace! My love goes with you…
Two weeks ago yesterday we got a new addition to our family!

James Baden Warren was born May 28 at 10:35 am, after a remarkably short labor (just 5 1/2 hours!) He was a very healthy 7 lbs 10 ozs, and 20 1/2 inches long (in spite of being born 19 days before the doctors said he would!)
Really, we think he's quite perfect.

And his big sister agrees.

So, it's not even 10:30 yet, and the laundry is going, the dishwasher is emptied, our breakfast dishes are washed, and I even took some time to attach our new hose to the spigot and give the garden a little watering! Also, I'm dressed!
As you might guess, we have quite a list of things to get done before the "Little Man" joins us. We have the basics all covered – a place for him to sleep, some baby blankets (used to be Bridget's but she won't mind) and a few clothes (one complaint here: little boy's clothes just aren't as cute as little girl's clothes – someone should get on that! Pronto!). We still need diapers and an infant car seat, but a quick run to the store would solve that. So, we're not PANICKING. But there are a LOT of other things that, while not necessary for post-baby survival, would sure be nice to have done.
Things like finishing some sewing projects that I've been working on since Bridget was born (2 years!?), getting her baby pictures organized in an album, and hanging some things on our bare walls are a few that come to mind.
With all that in mind, and with hopes that Bridget's social development (which has been a little neglected lately) will expand, we've enrolled her in a little in-home daycare just a few blocks away from our house. It was so hard to walk away – it wasn't that she was crying or being clingy, but I sure wanted to be!
This arrangement is just for a couple mornings a week, so it's actually pretty low-key, but hopefully it will give me a chance to get some things done, and Bridget's social horizons will expand. Everyone wins, right? That's what my brain says, anyway…
Being a mom is hard, you know? It involves a lot of letting go. Which is hard. As soon as we deliver the baby we've been carrying inside us for so long, we begin that process. And while being pregnant isn't (physically) always the most awesome thing, the thought of delivery as the first of many "letting go's" makes me not mind those previous forty weeks so much.
Only 4 weeks to go!
I really love that finger wag.
Sorry about my delinquent posting! I really, really want to write more, and hopefully will at a point very near in the future. In the meantime, please enjoy the awesomeness of Bridget!
Are you still there? I seem to be able to make out a thick layer of dust somewhere back in the dim recesses of my mind, but nothing more than a vague shape…
Okay, so it's been a little while. Maybe a big while. Maybe I have a lot to catch up.
Like, did you know that I live in a different state now? It's true! We moved to Philadelphia, Pennsylvania at the end of August. Brian took a job working for an excellent web design agency here, called "Happy Cog".
Also, we had Christmas:

Bridget turned two

And, perhaps most exciting of all, we discovered that we should expect a new member added to our family around June 16!

Which means that this is the last Warren family photo with just the three of us!

Exciting times, and not at all a good time to take a several months-long break from blogging! Hopefully this quick update has gotten you mostly caught up on the goings-on in our house.
I started making a skirt this past weekend, hoping it would be ready in time for me to wear it for July 4th festivities. I used a fabric that I've had in my stash for awhile, from one of my favorite fabric designers, the Alexander Henry Pink Zinnia, which I think I bought from Sew, Mama, Sew! (they don't seem to have this one in stock right now).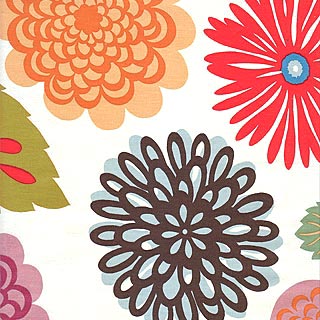 Anyway, it was a flop. I made a mistake, and was too annoyed and too short on time to fix it to wear the skirt that night. This may have had something to do with the fact that I started the skirt that afternoon :u)
Fortunately, the wonderfully talented and creative Grosgrain has written a wonderfully simple tutorial on sewing a simple skirt that I hope will help me to pull this off the discard pile. I'll keep you updated, but it would be a shame for this beautiful fabric to languish, don't you think?
Bridget turned eighteen months old yesterday. It's tradition that on half-birthdays (we call them "Appreciation Days") the celebrated person gets to choose the meal, so I picked some of Bridget's favorite foods. Thus, she feasted on steamed carrots, rice, a fried egg with the yolk broken, and pizza. She actually only ate a couple bites of the pizza – that was more for Brian and me.
Eighteen months! I can barely wrap my head around that. My baby's growing up, people! Please let me know if there is anything you've found that works to slow it down – nothing I've tried seems to make any difference.
She really is turning into quite the little girl. She's started running, and when we go on walks together she loves to go "FAST!" She got her first skinned knee this morning. She's had a small scrape on her knee before, but this one needed a band-aid. She was very brave, and let me rinse it and put on the antibiotic ointment without a fuss (after cuddles and kisses of course).
Also, she has recently become oh-so interested in climbing, and can get on and off our ottomans without help, although she appreciates a little help with the couch. One evening we were watching a show on the television and Bridget was puttering around with her toys in same room. Next thing we know, we hear her laughing with great glee from the bedroom. She had pulled herself up onto our bed and was incredibly pleased with herself.
She colors, paints, swings, rocks on her rocking horse, loves to be read to, and is learning her colors and shapes. Also, with some prompting and help, she can count to three (but you have to say "one"; when she decides on her own that she wants to count she does it like this, "two, two, two").
I'm trying my best to soak her in but these milestones are zooming past us so fast I feel like I'm barely able to keep up myself. She is such a joy and delight, and so sweet and precious I am kept in constant amazement of her. I love you, sweetie!

And other exciting things – for instance, I've been working on some new items for the shop, and just last night finished the listing process for a new print/painting (praint?) Presenting…dum da da DUM…The Cat And The Fiddle!

ALSO, as if that weren't enough, I am also participating in the 2009 Etsy Yart Sale ! That means that this painting along with the Cow Jumped Over The Moon art are both listed at 20% off through Sunday only! So if you'd like to take advantage of this great deal you gotta' jump on it (especially since I'm getting the word out on my involvement a wee bit late).
On the Bridget front, we have been dutifully taking pictures and video footage. She is growing so big and independent and talking a ton.

Holding a piece of pita bread and dancing to the music. Maybe not as exotic as my title suggests, but way cuter.

From the Blog